When it comes to beautiful furniture, nothing beats mahogany. Its polished classic look denotes a richness that is hard to ignore. The mahogany color also portrays luxury without being ostentatious.
So, which is this tree that is most sought after when it comes to high-end wood? Read on to understand more about the mahogany tree, understand its characteristics and desirability.
First, mahogany wood is reddish-brown.
The tree itself is part of three hardwood species found in the tropics. It is known to be straight-grained which means the fibers on its timber runs straight up and down.
The origin of the name mahogany is thought to be from West Africa. According to F. Bruce Lamb in his article in the Journal of Economic Botany titled "On Further defining Mahogany," the name is a corruption of the name "mogwai" which is used to describe the African mahogany by the Ibo and Yoruba people.
This name came with them when they were transported to the Americas as slaves and saw trees that looked similar to the ones in Africa. How true this is, is still debatable. What is however agreed on is that the earliest record of the name mahogany is dated 1671.
The 3 main species of mahogany tree are Honduran, West Indian, and Swietenia humilis:
1. The Honduran mahogany
is also known as the big-leaf.
---
Its scientific name is Swietenia macrophylla. It is the most sought after mahogany and the most visible. This is the mahogany species that is used for our furniture and paneling.
2. West Indian mahogany species
is also known as the Cuban mahogany.
---
Its scientific name is Swietenia mahagoni. Before the Honduran mahogany gained notoriety, this was the species that was widely used for furniture.
3. Swietenia humilis is the little known of the three mahogany species.
---
Unlike the other two, this species is small and twisted, making it unattractive for use as timber.
Saying those are the only mahogany species in the world would be wrong. Those three are known as the "genuine mahogany".
There are other mahogany species in different parts of the world. Some of them are the African mahogany which is also known as the Khaya, New Zealand mahogany which is also known as Kohekohe, Indian mahogany also known as Chittagong, Chinese mahogany, Indonesian mahogany, etc.
When it comes to furniture, two main species are considered:
Honduran mahogany and African mahogany.
1. Honduran mahogany
This species is the gold standard when it comes to procuring mahogany for furniture. It is considered as simply the best and the trust.
Whenever someone speaks of mahogany, this is the species they are most likely talking about. Due to its high demand, it is an essential export commodity in several nations in Central and South America. The United States and the United Kingdom are considered to be where the most demand comes from.
This has led to a rise in illegal logging, especially in the Amazon, to feed growing demand. On the other side, Peru is considered the top exporter with most of it being illegal.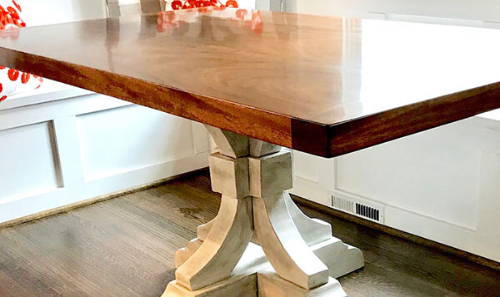 2. African mahogany
For those who cannot afford the Honduran mahogany, a cheaper alternative is the African mahogany. It has been growing steadily in stature to be the substitute of choice.
This is because it is considered to be the closest in looks and properties to the Honduran mahogany. Like the Honduran, it is a vast tree, growing to over 100 ft. And trunk diameters of 5 ft.
In Africa,it has been used to make canoes, to make termite-resistant timber and in the 70s to make drums. Unlike the Honduran mahogany, the African mahogany has interlocking grain.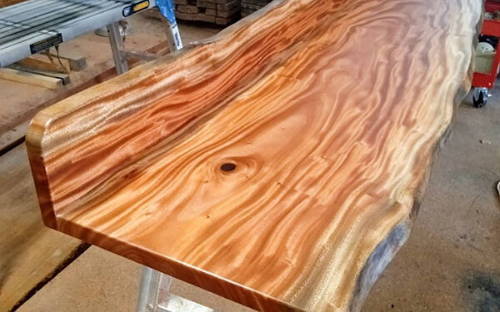 Mahogany wood Features:
What makes the mahogany especially favoured as a source of wood is its straight grains. In an undisturbed tree, you will be hard pressed to find defects on its timber. The lines are pure and perfect.
Over a period, the reddish-brown color of mahogany wood tends to darken. When the furniture is polished, it shines giving it that distinctive shiny red look.
The trees tend to be huge and wide making it ideal for making furniture of different shapes and sizes. Being hardwood, its durability is guaranteed. It is also resistant to insects and does not rot.
Uses:
Mahogany wood, the most valuable product of the tree, is used in all manner of furniture, paneling, and instruments. Here are some of them:
Some of the most desired pieces of furniture are made from mahogany wood. The most sought after are the antiques. Articles such as tables, chairs, clocks, and cabinets made during the Classical and Federal Periods are sold at astronomical sums in an auction.
They were made when mahogany was not as expensive. There were also fewer restrictions. Nowadays, building a furniture piece entirely out of mahogany is very expensive. This has given rise to using mahogany as a veneer.
A cheaper wood is used to make the furniture,then a thin layer of mahogany is applied at the top as a cover. This way, you get the look and feel of mahogany without digging deep into your pocket.
Being a hardwood, mahogany is ideal for making floors. For areas experiencing heavy traffic like libraries, use of mahogany will ensure the durability of the stories.
Mahogany paneling is mostly associated with mansions, libraries, and offices. Mahogany panels give an aura of old money. In libraries, they exude an air of seriousness. You will be hard pressed not to whisper when talking if you find yourself in a room with mahogany panels and cabinets filled with books.
They are a favorite of law firms which lets them allude to the seriousness of the place. When being interviewed, several professionals like lawyers, authors, accountants, etc. like to sit with the background filled with mahogany.
---
One feature of mahogany that makes it ideal for boat building is resistance to rotting. For African mahogany, its interlocking grain means it does not take in water. It is therefore used on the outside of boats.
Honduran is used to make the interior giving it a beautiful look. For yachts, it can be used to create furniture like cabinets, chairs. It can also be used in floors, ceiling, and paneling.
---
Mahogany doors hold their age very well. They will retain their glamour for decades exceptionally if they are maintained well. For an entrance or exit door, it speaks volumes about the building. Working with glues and nails on it is a breeze.
Again due to its durability, you are sure it will hold its integrity all along. It will not warp, and the frame will remain as sturdy.
---
Some musical instruments such as pianos, violins, and drums are made out of mahogany. This is because mahogany wood is a tonewood. The sound produced is described as "deep and warm•" You can find mahogany on the sides and backs of these instruments.
Others like electric guitars have their whole bodies made out of mahogany. However, due to cost, alternatives like birch and maple are at times used instead.
---
One of the items you can gift someone to show appreciation if you are rich is a pen made of mahogany. The shiny polished look shows the level of esteem you hold that person.
He/she will also take note and appreciate the gesture.
7. Custom pool or billiard tables
---
Custom made pool or billiard tables made of mahogany is, unfortunately, a preserve of the wealthy.
Mahogany is said to make for a perfect table due to the interlocking or straight grains depending on the source of the mahogany used.
Apart from its wood, its leaves, barks, and seeds have used too.
The Fulani of West Africa is known to trim the African mahogany to feed their cattle when it's dry. The bark has a medicinal value which is used to treat several diseases. The fruit of the mahogany tree, called the sky fruit, is approved to be used as medicine in Malaysia.
There is research that has shown the fruit to help regulate blood sugar in rats. Other areas it is alleged to help include erectile dysfunction and skin conditions. It is also said to help with the circulation of blood.
These medicinal uses should however,be taken with a pinch of salt. There is a risk of damaging the liver. There have been reported cases of liver damage due to the consumption of sky fruit.
Effects on the environment:
Due to the high demand for mahogany, especially from South America, illegal logging is rife.
It is estimated that more than half of the mahogany wood exported from South America is done illegally.
Peru leads with an estimated 80% of its mahogany wood export being illegal. This is according to a book titled MAn Opportunity for a Different Peru: Prosperous, Equitable, and Governable" by Vicente Fretes and Marcelo M. Giugale.
In it, the authors point out that the United States is the lead destination for this timber. The economic cost of illegal logging, to Peru alone, is estimated to be of almost $70 million annually. This has a devastating effect on the Amazon rainforest. Considered to be the lungs of the world, a threat to it is a threat to the entire planet.
In some regions like the Philippines, mahogany plantations are hurting the environment. It has been pointed out that the trees are becoming a threat to local wildlife and plants.
The farms are causing the soil to acidify which is not suitable for plants. It affects the growth of roots, damaging their tips. It causes plant growth impairment and reduced rate of seed germination.
Wild animals that depend on these plants for nourishment suffer from lack of enough food. The overall effect is a depressing environment.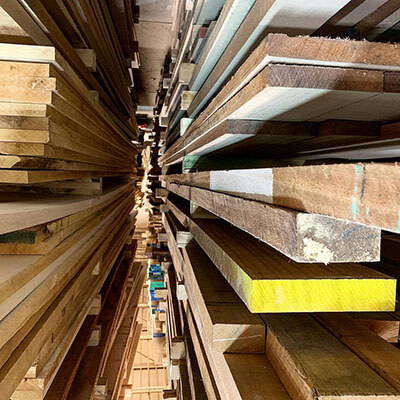 Solutions being implemented:
Solutions to protect mahogany have been put forward to varying degrees of success. Logging has been banned, whether wholly or partially, in several countries. There are severe restrictions to the trade of hardwood trees. How effective these policies are is a matter of debate.
Other nations are promoting plantations to replace trees that were cut. This brings with it unintended consequences as pointed above.
What everyone agrees on is that forest covers need to be protected. Whether it is the Amazon or a forest in the African continent, whatever policy is implemented should balance economic benefits of mahogany and environmental protection.